Biolito incontinence stimulator /2channels
Biolito incontinence stimulator /2channels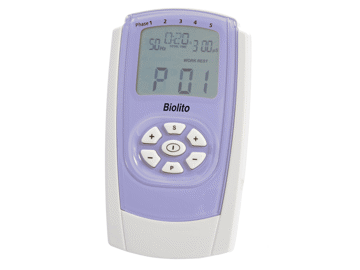 3 others are viewing this product
INCLUDED IN THE PRICE:
device, 2 stimulation cables, 4 self-adhesive TENS electrodes (40x40 mm), 1 battery 9V, probe to be chosen separately.
Choose a compatible accessory
Probe for incontinence therapy
DETAILS
Biolito can be used to treat mild to moderate forms of incontinence at home. It is only for this purpose, it does not provide treatment for other conditions.
Incontinence is the leakage of urine or faeces, the inability to hold it in.
Programs of the Biolito device
It provides a range of pre-designed treatment programs
for mild and moderate incontinence;for the elimination of mild to moderate faecal incontinence (PRG 3, 4) - PeriProbe Analis probe required
for the elimination of mild to moderate urinary incontinence - PeriSphera O vaginal probe required

for stress incontinence (PRG 1, 3, 4)
cystic incontinence (PRG 2)
mixed incontinence (PRG 6)

towards vaginismus, sexual pain (PRG 5). PeriProbe Analis probe recommended for treatment
opportunity for your doctor to tailor a treatment program for you. This can be particularly effective in the treatment of mixed incontinence. A program can consist of up to 5 phases, so the settings for each phase may be designed for a different task.
The importance of the right treatment program
When you notice incontinence, the first step is to see your doctor to determine the type of incontinence. If the type is known, you should then implement the appropriate treatment program.
Incontinence can result from several causes.
In stress incontinence, the pelvic floor muscles weaken and do not hold properly. In this case, the aim of the treatment is to strengthen the muscles.
In stress incontinence, the tone of the muscles is increased and therefore the aim of the treatment is to relax them.
In mixed incontinence, the two above occur together, so the treatment program is also made up of several phases. On the one hand, it is divided into muscle-strengthening and on the other hand, it is divided into parts of the programme that reduce tension.
Choice of electrodes
A wide range of electrodes are a combination of plastic and metal. The electrode surfaces are coated with smoky gold (an extremely thin layer of gold), so they can be used in case of metal allergy.
Incontinence therapy includes the treatment of stress and urge incontinence, as well as faecal incontinence. Mixed incontinence can also be treated with an individually tailored programme or by sequential stress and urge incontinence programmes.
The use of the thin PeriSphera AT probe is recommended for the treatment of vaginismus.
Probe name

Photo

Proposed application

Compatibility
PeriSphera O

For your convenience. For general incontinence management.
For single channel devices.
evoStim UG/E/P,
Biolito, BioBravo, Myolito, MyoBravo, SineBravo, DuoBravo
PeriSphera H

For your use. For professional treatment of incontinence.
For dual-channel devices.
evoStim UG
Biolito, BioBravo, Myolito, MyoBravo, SineBravo, DuoBravo
PeriSphera U

For your convenience. For professional treatment of incontinence.
For dual-channel devices.
evoStim UG
Biolito, BioBravo, Myolito, MyoBravo, SineBravo, DuoBravo
PeriSphera AT

For your convenience. For the treatment of vaginismus.
Also for general incontinence in case of a tight vagina.
For use with dual-channel devices.
evoStim UG
Biolito, BioBravo, Myolito, MyoBravo, SineBravo, DuoBravo
PeriSphera A

For permanent use.
Professional treatment of incontinence and male urinary incontinence.
For use with dual channel device.
evoStim UG
Biolito, BioBravo, Myolito, MyoBravo, SineBravo, DuoBravo
PeriProbe Analis

For end-use.
Description for the treatment of incontinence and male urinary leakage.
For single channel device.
evoStim UG/E/P,
Biolito, BioBravo, Myolito, MyoBravo, SineBravo, DuoBravo
Specifications
6 programs, including 1 customizable program
Two programs;channels
The LCD screen displays the timer and intensity
Individual treatment times from 1 minute to 10 hours
Time and average intensity of each channel
High safety level to protect the user
Waveform: asymmetric, rectangular, biphasic, zero DC current
Intensity: 0 - 80 mA
Type: constant current
Selectable pulse width: 50 µS-450 µS, in 10 µS steps
Pulse rate: 1 - 150 Hz
Modulation time: 2,3,4,5,6,7,8,9,10,12,15,20,30,40,50,60 sec
Run time: 0.1 - 9.9 sec
Lease time: 0.1 - 9.9 sec
Pause phase duration: 2-99 sec
Delay: 0.0-5.0 sec
Treatment time per cycle: 1 to 599min, in 1-min increments
Can be operated with 1 9V battery