AquaUltra Clear /gel for ultrasound /260g in jar
AquaUltra Clear /gel for ultrasound /260g in jar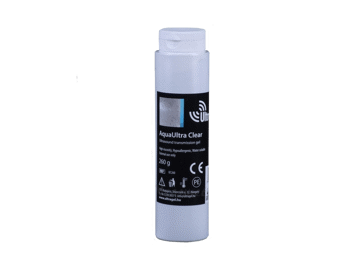 INCLUDED IN THE PRICE:
260 ml gel
DETAILS
AquaUltra Clear A colourless, odourless, highly viscous, water-soluble gel for ultrasound examination and treatment. Contains no substance that could damage the ultrasound head. Skin-friendly, non-sticky, non-sticky.

Please note:
Only for external use
The product is not sterile
Do not use the gel if the skin is damaged
Perhaps very rarely reddened
Do not get in contact with skin
Do not use the gel after use

Essentials:
qua, carbomer, sodium, hydroxide, EDTA, methylisothiazolinone, methylchloroisothiazolinone, benzyl alcohol ( no dye or E 131 or aloe/PG )
Storage: at room temperature away from UV light.Shelf life 36 months from date of manufacture.