B-Cure Laser Sport softlaser /LLLT device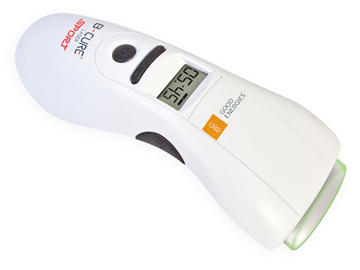 Discontinued product
You found this product because it was previously in our range. We have discontinued distribution and therefore it is no longer available. However, you can still find the accessories you need to use this product!
DETAILS
The B-Cure Laser Sport softlaser (LLLT) device
is recommended for active athletes
sports physicians
massectors
for the treatment of musculoskeletal acute and chronic pain
musculoskeletal pain.
B-CURE LASER SPORT LASER SPECIFICATIONS
GaAlAs solid-state laser diode
Laser power: 250mW max.
4.5 Joule/min
Wavelength: 808nM
Laser pulse frequency: 15kHz
Laser pulse duration: 17μs
Laser lifetime more than 4000 operating hours
Laser beam: 45 x 10mm (length x height)
Laser beam divergence: +/- 3degrees
Battery: 3xAAA NiMH battery
Battery operating time more than 4 hours
Battery charging time about 5 hours
Battery charging current 300mA max.
Power supply: 115-230V adapter
Device dimensions: 200 x 70 x 40mm
Device weight: 175gr., with batteries
Soft laser treatment points
General soft laser treatment points
Sports Injuries Soft Laser Treatment Points
Sports laser treatment points

For more information, download the brochure "Treatments with B-Cure soft laser"!
Comparing Soft Laser Devices
B-Cure Laser
Safe Laser 150
B-Cure Laser Sport
B-Cure Laser Pro
Safe Laser 500 Infra
Wavelength
808 nm
660 nm
808 nm
808 nm
808 nm
Solar divergence
+/- 3°
+/- 3°
+/- 3°
Color of light
Infra, invisible
Red, visible
Infra, invisible
Infra, invisible
Infra, invisible
Surface dimensions
4.5cm2
5.3cm2
4.5cm2
4.5cm2
3.14cm2
Face shape
oval
circle
oval
oval
circle
Laser power
250mW
250mW
250mW
250mW
500mW
Energy emissions
3.75Joule
9.0Joule*
4.5Joule
5.0Joule
30 Joule*
energy deviation/cm2/perc
0.83 J/cm2/perc
1.7 J/cm2/perc*
1.0 J/cm2/perc
1.11 J/cm2/perc
9.55 J/cm2/min*
Treatment times (for 5 Joule injection)
6 minutes
3 minutes*
5 minutes
4.5 min
2-3 min*
Depth of coverage
3-8cm
1-3cm
3-8cm
3-8cm
3-8cm
Adjustable treatment time
Yes
No
Yes
Yes
No
Subscribe when the required energy is injected
Yes
No
Yes
Yes
No
Hard
to reach area for treatment
Yes
No
Yes
Yes
None
Arthritis
Not suitable
Suitable
Suitable
Suitable
Rheumatoid Arthritis
Suitable
Blind fingers
Suitable
Suitable
Suitable
Disease recovery
Compliant
Compliant
Compliant
Suitable
Suitable
Treating acne-prone skin
Suitable
Suitable
Suitable
Suitable
Suitable
Scar reduction, scar pain reduction
Relevant
Relevant
Relevant
Malfeligible
Malfeligible
Physical inflammations
Malfeligible
Suitable
Suitable
Suitable
Suitable
*Full battery, maximum values, on skin
Soft laser, soft laser, cold laser, low intensity laser are the same device. Treatment with it charges the cells with energy. Its effect is biostimulation, i.e. laser beam initiates and stimulates healing and regeneration.
How to perform soft laser treatment
The device is placed on the painful area and held there for 5-8 minutes.
If the area is larger than the treatment head covers, it should be moved until the whole area is treated.
Treatments should be repeated 2-4 times a day until complete healing (at least 10 days is recommended).
For fresh injuries, up to 10 treatments can be performed on the first day.
Laser treatment should be applied directly to the skin, it is not appropriate to treat through a cloth or bandage!
If it is not possible to apply directly to the treated area (e.g.