Rubber electrode /1pair/45x50mm/pin/ +straps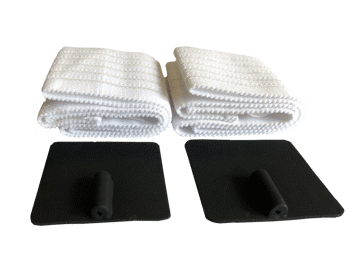 Discontinued product
You found this product because it was previously in our range. We have discontinued distribution and therefore it is no longer available. However, you can still find the accessories you need to use this product!
DETAILS
Pair of rubber electrodes (45x50mm) for general TENS and muscle stimulation treatments, with elastic straps
If you regularly use TENS or muscle stimulation treatments at home, the cost of self-adhesive TENS electrode pads can be high. This rubber electrode has an "infinite" lifetime. They do not wear out or deteriorate, which means you can replace the self-adhesive pads and reduce costs.
However, the pulse transfer capability of the rubber electrode is inferior to that of self-adhesive electrodes! If you need to treat paralysis, nerve injury, muscle tears or a serious condition, you should continue to use a self-adhesive electrode. However, for general pain relief, shaping muscle treatment, fat reduction treatment, rubber electrodes are perfectly suitable.
The rubber electrode will transmit the pulse to your skin if you wet it thoroughly or use a contact gel. When used dry, the rubber electrode cannot transmit the pulse, it causes a burning, stinging sensation at the point of application!
The package also comes with a 50cm Velcro elastic band to secure the electrode to your limbs. Use a simple adhesive tape to fix it on your torso, back and abs.