ValueTrode X 5x5cm neurostimulation electrodes PIN
ValueTrode X 5x5cm neurostimulation electrodes PIN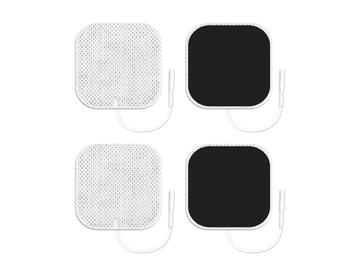 INCLUDED IN THE PRICE:
4pcs self-adhesive electrodes | 5x5cm | hygiene product
DETAILS
The ValueTrode® X neurostimulation electrodes provide high quality at an economical price.
The ValueTrode® electrodes with Axelgaard's patented multi-layer MultiStick® hydrogel are known for their durability and multiple applications on the skin.
The multi-layer gel optimizes even current distribution.
The material and quality of ValueTrode and ValueTrode X electrodes are identical. The difference is that the rim of the ValueTrode X electrodes has a 2mm wide glue-free section, which makes it easier to remove the electrode from the skin. At the same time, the area that delivers the electrical pulse is smaller, which can have a minimal but significant effect on the treatment.
Role of the TENS electrode
Electrotherapy treatments (TENS, EMS, MENS, MCR, KOTZ, INTERFERENCIA) deliver the impulses through electrodes attached to the skin.
The surface of the electrode contains a gel (gelatinous substance) which ensures unobstructed transmission of the impulse to the skin.
The TENS electrode is reusable
After treatment, they can be carefully detached from the skin and glued back onto a plastic sheet.
As long as the adhesive adheres properly, the electrode can be used.
If it no longer sticks and the center dries out, discard it and get a new set.
Don't use the same electrode more than once, as you could spread infection!