Waist cuff /4 chambers /gray/PQ-2200
Waist cuff /4 chambers /gray/PQ-2200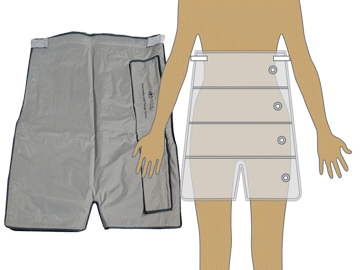 1 others are viewing this product
INCLUDED IN THE PRICE:
1x waist cuff, 4 chambers in selected size
Choose a compatible accessory
DETAILS
To treat the upper thigh, hip, buttocks and abdomen area, you can choose between two types of cuffs: trouser and belt-like.
These cuffs are needed if your lymphatic system extends all the way up to your thighs. In this case, you need to treat your torso as well as your legs.
Other uses include beauty treatment, including cellulite, cellulite treatment, cellulite treatment and fat removal after cavitation (fat removal treatment).
The trouser cuff provides a more effective treatment because it completely surrounds the thighs and buttocks.
Imagine the belt-like cuff as a miniskirt and consequently the inner thigh and lower buttocks are not treated.
Pants Cuff
The pants cuff provides effective and fully circular treatment of the upper thigh, buttocks and lower abdomen.
It is ideal for com- hip lymphedema.
It has three rows of zippers so that the size (puffiness) can be adjusted over a wide range. In the diagram below, the numbers stand for: minimum - middle - maximum size.
Excellent for beauty treatments, especially for cellulite, cellulite, cellulite treatment or after cavitation (fat removal treatment).
The pant cuff has a "built-in" air hose, meaning you don't need to order a hose separately.
Belt Cuff
You should apply the cuff belt-like, starting from where the top of the thigh cuff is. Velcro can be used to secure it to the correct size.
The belt-style trunk cuff is less effective than the pant cuff, but cheaper.
It is suitable for lymphedema treatment and beauty care, e.g. cellulite, cellulite, cellulite treatment.
Cuff for torso should be chosen separately.
Before choosing a cuff, measure your girth in the following places: abdomen, below the navel with palm of your hand - hips. You can choose the right size based on your measurements.
P = pant cuff - M-L short torso cuff optional sizes - Green line and fold number: length size in cm - Red line and thickness number: girth size in cm