Veinoplus Back for releive back pain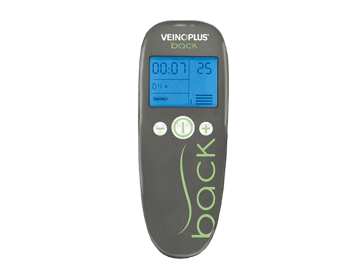 1 others are viewing this product
Discontinued product
You found this product because it was previously in our range. We have discontinued distribution and therefore it is no longer available. However, you can still find the accessories you need to use this product!
DETAILS
VeinoPlus Back TENS NMES utilises patented technology to deliver complex and unique stimulation that combines TENS (Transcutaneous Electric Nerve Stimulation) for pain relief with NMES (Neuromuscular Nerve Stimulation) that contracts muscles and can relax muscle spasms.
Designed to bring soothing comfort to the sufferers of back pain, the VeinoPlus Back is easy to use and delivers all essential elements of effective drug free back pain relief in a single stimulation program that lasts 45 minutes.
VeinoPlus Back therapeutic aims
Provide effective back pain relief
Deliver relaxing back massage
Alleviate and calm muscle spasms
Stimulate release of body's own natural endorphins for general pain relief, soothing and overall feeling of wellbeing
VeinoPlus Back therapy focuses
on treating pain on the back of the body (upper back, middle back, lower back), requiring placement of skin electrodes on 3 defined areas:
back of the neck/upper back
over shoulder blades/middle back
coccyx area/lower back
Below figure shows, where to place skin electrodes for the best outcomes.
Using VeinoPlus Back
VeinoPlus Back features single treatment program that lasts 45 minutes. VeinoPlus Back is simple to use. Just place 2 self-adhesive skin electrodes on your painful area or an area that requires relaxation.
One treatment session takes 45 minutes. As the device completes the session, it stops automatically.
You can perform several sessions one after the other in a row. There is no minimum resting time between sessions. There is no risk of overuse. The more you use the VeinoPlus Back, the more effective the treatment becomes.
Ensure that the battery is inserted into the battery compartment correctly.
Place both self-adhesive skin electrodes on the painful area (as illustrated). Connect them with the device using connective cable lead provided. After skin electrodes are connected, switch the device on by pressing central key.
Slowly increase the intensity of stimulation by pressing the + key (plus key) to reach comfortable level. The higher the intensity, the better the outcomes. However, always remember that the treatment should not become too uncomfortable or painful! If the stimulation sensation become to strong, reduce the intensity by pressing the – key (minus key).
The device will switch automatically off after 45 minutes.
You can repeat treatment session(s) immediately by restarting the device.
You can stop the device at any time during treatment session by pressing the ON/OFF button.
After treatment, when the device is switched off, disconnect the electrodes, and remove them from your skin.
Store the electrodes on the side ON of the plastic shields in their original sealed bag. This will prevent the adhesive gel from prematurely drying out.
When the electrodes begin to lose their adhesive strength, drop 1 -2 drops of water on the surface of the gel to extend their usage.
When the electrodes become very dry and are no longer adhesive, replace them.
Refer to instructions on best handling of the skin electrodes shown on the plastic resealable electrode bag.
VeinoPlus Back is battery powered. It uses 9 V alkaline batteries or rechargeable 9V batteries type 6LR61. You can easily obtain the batteries from supermarkets, electric retailers or online. Please do not use the lithium batteries as these could negatively affect functioning of the VeinoPlus.
Technical specifications
Technologically advanced muscle stimulator indicated for back pain
CE 0086 Medical Device
Low frequency and low voltage stimulator
Single treatment program that lasts 45 minutes
Input power: lower than 0.5 W
Output power: lower than 0.05 W
Voltage waveform: rectangular monopolar and balanced with ZERO net D.C. component
Duration of output impulses: 25 – 240 microseconds
Output voltage: peak value of 50 Vp ±5%, when loaded with impedance from 250 – 10 000 Ω
Current intensity: peak value of 100 mA ±5%, when loaded with 500 Ω
Modulated waveform in a special pattern resulting in muscle contractions from 2 – 120 per minute
Electrical impulses delivered via intact skin with maximum output voltage of 50 Vp ± 5%, maximum impulse time duration 240 microseconds, maximum charge per impulse no greater than 25 µC
Battery powered – 9V alkaline battery or rechargeable 9 V type 6LR61 battery
Operation/storage/transportation conditions: + 5 to + 27° C; RH 0 – 50%; pressure 850 – 1060 hPa; altitude equivalent to < 3000 m
Dimensions: 145 x 55 x 20 mm
Weight: 96 g (excl. battery)
Skin electrodes: 2 reusable self-adhesive 80 x 130 mm oval electrodes with pig tail (female) connectors
Connective cable lead with male connectors for 2 skin electrodes
Contraindications, warnings, precautions
Not to be used by people with implanted cardiac pacemaker or defibrillator
Always read, understand, and follow all recommendations, precautions and warnings listed in user manual
Do not apply skin electrodes over any skin lesions, cancerous lesions, inflammation, infection, or severe varicose veins
Do not apply skin electrodes over the thorax as it may increase the risk of cardiac fibrillation
VeinoPlus Back – a simple, safe, and effective way to treat back pain, relieve tensed muscles or relax muscle spasms – all the way from the back of the neck to the lower back!