Waist cuff /12 chambers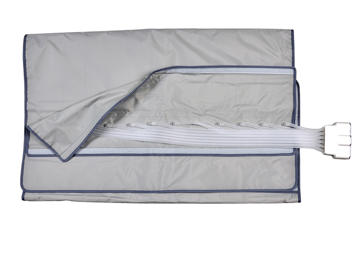 INCLUDED IN THE PRICE:
1x waist cuff, 12 chambers
DETAILS
12 chambers waist cuff for Power Q-8120 compression therapy unit
The torso and arm cuffs are unisize, i.e. there is only one size.
The price of the trouser cuffs also includes extensions. So by zipping these in, you can expand the size up to a waist measurement of 164cm. For a smaller body size, you can "taper" it with several rows of zippers.
Measure at the following locations
leg cuffs: ankle - shin - kneecap - thigh cap
arm cuffs: wrist - forearm - upper arm circumference under the armpit
torso to cuff: abdomen, palm-width below navel - hips
trousers to cuff: abdomen-hip-thigh-hip-hip-ankle
| | | | | | | | | |
| --- | --- | --- | --- | --- | --- | --- | --- | --- |
| CUFFS | A | B | C | D | E | F | G | H |
| LEG | 90 | 30 | 70 | 60 | 54 | 50 | 25 | - |
| LEG with extender | 90 | 30 | 84 | 70 | 62 | 58 | 25 | - |
| WAIST | 137 | 77 | 5.5 | - | - | - | - | - |
| ARM | 90 | 56 | 48 | 40 | 36 | - | - | - |
| PANT smallest | 150 | 108 | 108 | 62 | 48 | 32 | 50 | 100 |
| PANT largest | 150 | 164 | 160 | 84 | 70 | 54 | 50 | 100 |