Power Q-8120 compression therapy unit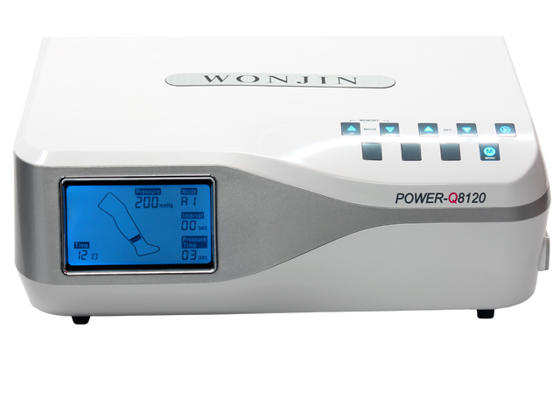 Power Q-8120 compression therapy unit
Included by default:
Device, alone. Warning: cuffs and air hoses should select separately, according size and needs.
The Power Q-8120 is a high-level (equipped with highly professional technical features) compression therapy unit, controlling the operation of 12 compression chamber cuffs, and is capable of treating, or improving several diseases and complaints, either in mild, moderate or severe conditions.
It is excellent for the treatment of lymphedema in the comfort of your home. It can be used in any severity of the disease, and moreover, in case of ulcerative complications. It is appropriate for clinical use as well.
You can use it equally in edema affecting the arms or legs.
Its optimal for arm swelling, developing after breast removal surgery (mastectomy).
You can effectively eliminate the feeling of heaviness of legs, and tension pains caused by varicosity.
You can also apply it to relieve swelling of your feet associated with varicosity in pregnancy.
Excellent for the treatment of postthrombotic state (3 months after the acute phase has resolved)
With the help of its reverse (top-down) program you can manage the vascular stenosis associated complaints, you can improve the microcirculation of the leg (the entire lower limb), you may delay or avoid amputation. You can also use it in case of diabetic foot.
In case of limb paralysis, decreased mobility, it stimulates blood circulation when regularly applied, and helps to prevent the development of thrombosis
Reducing cellulite symptoms (by using leg and waist cuffs)
Improvement of muscle regeneration after sports - it increases the excretion of metabolites and accelerates the regeneration
It provides a relaxing and pleasant massage to the tired body. It refreshes and soothes.
Általános tudnivalók a Power Q-8120 nyirokmasszázs gépről
All settings are available on the unit, which are recommended from a medical point of view for home maintenance treatment of lymphedema, varicosity, postthrombotic state, etc.
Leg cuff, arm cuff and waist cuff can be connected to the device.
You can connect up to 2 cuffs to the device at a time.
Each cuff is composed of 12 air compartments.
The unit operates in 10 program modes/air compression modes/setting modes of air chambers (A1-A2-B1-C1-C2-C3-D1-D2-E1-E2).
Please use the A1-C1-D1-E1 programs for the treatment of lymphedema, varicosity and postthrombotic state.
The A1 program is the mildest, program C1 is the strongest, whereas the strength of the D1 program is in between the two. Be patient! Start the treatments with program A1 or E1, and switch to stronger programs only if you are not satisfied with the result.
The pressure wave direction of the A1-B1-C1-C2-C3-D1-E1-E2 programs is bottom-to-top, i.e., at first, the lower air compartment of the cuff is inflated, and then comes the next compartment.
The A2-D2 programs operates in reverse mode, namely the pressure wave direction goes from top to bottom. Never use this program in case of lymphedema or varicose complaints! These programs are recommended in certain stages of peripheral vascular disease (PVD, vascular stenosis), and in post-surgery conditions to improve microcirculation.
It is particularly important that the pressure of each air compartment is individually adjustable. This ensures the most effective leg lymphedema treatment.
The treatment time (operating period) can be adjusted between 5 and 99 minutes. If the treatment time has elapsed, the machine stops
How can you set the Power Q-8120 unit?
Start with the A1 program and 15-20 minutes treatment time.
Set the operating pressure, so that it should be the highest in the lowest air compartment, while gradually decreasing in the upstream air compartments. Eg. Pl. 60-60-60-50-50-50-40-40-40-30-30-30 mmHg. The longer pressure time provides more effective lymphedema therapy, than the short pressure time.
Set the pressure time to 8-10 seconds. This ensures that the device performs a complete inflation cycle in a minute. The longer pressure time provides more effective lymphedema therapy, than the short pressure time.
Watch the effect! If necessary, after a few treatments, raise the pressure values of the A1 program (but never set higher than 80Hgmm), or switch to program E or C. For a more powerful effect, you can also inrease the treatment time to 20, or up to 30 minutes.
Rather, treat repeatedly and for a short period of time, than once for a long time. The total treatment time should be a maximum of 120 minutes daily.
Prior to, or simultaneously with the leg treatment, manage also with a waist cuff, thereby improving efficiency.
Risks of treatment
If you set too high pressure, it can lead to "hardening of skin" on the edematous body parts. This in turn, can worsen your condition - therefore avoid the use of high pressure!
In case of heart disease, heart failure, cardiomyopathy, or after myocardial infarction, never apply a higher pressure than 40-50 mmHg, and use only one cuff at the same time! By using more than one cuff at a time, you may overload your circulation, which can eventually lead to heart complaints.
Do not massage the tumor tissue directly, because you can promote the spread of the tumor. But, for example, in case of a thyroid cancer, you can safely manage your feet
Accessories for the Power Q-8120
Unisize cuffs can be selected for the device, ie there is only one cuff size for the device.
In addition, for cosmetic use, "pant" is also available, which is also a unisize size, but includes 3 zippers that make the pants adjustable to different body sizes.
Measure your body details
leg: ankle - calf - knee - thigh
arm: wrist - forearm - upper arm circumference under armpit
waist: abdomen - hip
| CUFF SIZES* | A | B | C | D | E | F | G | H |
| --- | --- | --- | --- | --- | --- | --- | --- | --- |
| LEG | 94 | 31 | 70 | 60 | 50 | 45 | 25 | - |
| WAIST | 137 | 77 | 5.5 | - | - | - | - | - |
| ARM | - | - | - | - | - | - | - | - |
*in cm.

Technical details
Display: Graphic LCD
Number of programs: 10 types of inflation patterns
Adjustable cuff pressure: 0-200 mmHg
Cuff pressure is adjustable per air compartment
Adjustable treatment time: 0-99 minutes
Pressure holding time: 0-15 seconds
The interval between cycles can be set from 0 to 60 seconds
Cuff type: 12 air compartments
Device weight: 9.0 Kg (without cuffs and hoses)