evoStim E for incontinence /FES/EMG-biofeedback/ETS
evoStim E for incontinence /FES/EMG-biofeedback/ETS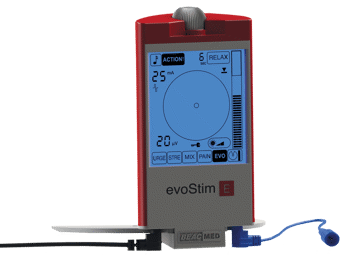 1 others are viewing this product
INCLUDED IN THE PRICE:
evoStim®unit, connective lead wire, reference lead, PerisPhera-O vaginal probe, pack of 4 self-adhesive electrodes 50 x 50 mm, 3 x AAA batteries, plastic key for battery compartment, stand
DETAILS
evoStim E is an advanced perineal stimulator that features 1 electrostimulation channel and 1 biofeedback EMG channel. evoStim E facilitates effortless pelvic floor muscles treatments with perineal stimulation, enables active pelvic muscle recoveries with EMG biofeedback and re-trains and re-educates pelvic floor muscles with EMG triggered stimulation (ETS).
Functionally advanced, but simple to use and intuitive, the evoStim E is equally suitable for use by professionals in clinics and for personal use at home.
evoStim E overview
evoStim E is an advanced EMG, ETS and STIM therapy device for all types of incontinence in men and women. IntelliSTIM function, integrated into the evoStim E, automatically controls stimulation parameters for ease of use and appropriate applications of stimulation for optimum therapeutic outcomes. Additionally, professional users can adjust/edit stimulation paraments manually to address specific needs of the patients.
evoStim E delivers electrical perineal stimulation, EMG and ETS by surface application of self-adhesive skin electrodes or internally with vaginal or anal probes.
Perineal Stimulation with evoStim E
Perineal stimulation: evoStim E features advanced IntelliSTIM function, which means that when the user adjusts frequency, all other stimulation parameters are adjusted automatically to the values appropriate to the chosen frequency, offering the user an infinite number of perineal stimulation programs for stress incontinence, urge incontinence, mixed incontinence and pain relief.
Each program has pre-set and optimised parameters, however, users can modify one or more parameters, except for pulse width that is automatically defined.
URGE incontinence program: Pre-set parameters: Frequency 10 Hz (adjustable from 1 – 20). Pulse width: 200 µs. This frequency range does not produce muscle fatigue, hence, there are not rest periods.
STRESS incontinence program: Pre-set parameters: Frequency 50 Hz. Pulse width 250 µs. Action time: 2 seconds. Rest time: 4 seconds. Frequency during Rest is 3 Hz. 3 Hz frequency has a relaxing effect on the pelvic floor.
MIXED incontinence program: Pre-set parameters: Frequency 35 Hz. Pulse width 200 µs. Action time: 3 seconds. Rest time: 6 seconds. Frequency during Rest is 5 Hz. 5 Hz frequency effectively inhibits the function of the bladder muscle (i.e. detrusor muscle), hence it is am effective component of the urge incontinence treatment.
PAIN program: Pe-set parameters: Frequency 70 Hz. Pulse width 50 µs.
For best therapeutic outcomes achievable with electrical perineal stimulation, the evoStim E delivers symmetrical bi-phasic waveform compatible with internal probes with ring electrodes and alternating bi-phasic waveform for internal probes with side electrodes.
Perineal stimulation programs duration time is pre-set to 30 minutes, but can be adjusted from 5 to 60 minutes in steps of 5 minutes. Alternatively, a continuous stimulation can be selected.
EMG Biofeedback with evoStim E
EMG Biofeedback (Perineal Biofeedback): EMG stands for electromyography. EMG is an active real time therapeutic technique measuring voluntary muscle contractions and relaxation and expressing them visually in graphs and audibly in beeps or sounds. Therapeutic goals of EMG are to voluntary control of pelvic floor muscles. The visual and acoustic representations of contractions or contraction levels have a highly motivating effects on the patients.
Types of EMG muscle training
Recruiting Biofeedback: The patient has difficulties with finding/ locating (i.e. 'recruitment') of pelvic floor muscles. The contraction signal is weak and does not reach the threshold target. Patient tries to contract the muscles repeatedly and to find effective the way of 'recruiting' muscle fibres of pelvic floor to contribute to stronger contractions.
Training Biofeedback: Patient has weak pelvic floor muscles and displays problems with controlling them, such as not capable of contracting the muscles in time for a sudden change in abdominal pressure (i.e. coughing or sneezing). EMG guides the patient to perform multiple contractions increasing in strength, motivating the patient by visual and acoustic stimuli.
Relaxing Biofeedback: The patient experiences involuntary contractions of pelvic floor muscles as well as steady contractions. Treatment goal is to achieve voluntary relaxation of the muscles.
Biofeedback program parameters: End of Scale 20 µV (editable). Contraction time (Action) 8 seconds. Rest time 8 seconds. Type of visual feedback 20 concentric circles targets (editable to 40 lines bar graph. Sound feedback 2 KHz sound for low contraction to 20 Hz for full scale contraction. During Action, the LCD display on the unit has Yellow back-lighting, whilst during Rest back-lighting is Green. Session time is pre-set for 30 minutes.
EMG Biofeedback exploits tiny signals generated by perineal muscles during voluntary contractions. EMG Biofeedback can be applied with internal vaginal or anal probes or externally with self-adhesive surface skin electrodes. EMG Biofeedback also requires application of a reference skin electrodes that supresses environmental electrical interferences.
EMG values are displayed on a linear bar graphs or on concentric circles graph on a back-lit LCD display. The goal is for the patients to activate all 40 segments of linear bar graph or all 20 circles. Audible signals motivate patients to improve the strength of contractions, thus improving contraction awareness and voluntary control of the relevant muscles.
The EMG Biofeedback is not an alternative to perineal stimulation, but a complementary treatment, indicated especially for patients with weak pelvic floor muscles unable to sufficiently control their pelvic floor during sudden increases in abdominal pressure (i.e. when coughing, sneezing, running, jogging or lifting, etc.). Technologically advanced evoStim E enables easy administration of EMG Biofeedback.
Please note that the evoStim E is suitable for the EMG Biofeedback on any skeletal muscles. Here it is best to select linear bag graph feedback. For pelvic floor muscles EMG, the best visual feedback is the Concentric Cycles Target as its central circle visually represents the closure of an orifice achieved with muscle contractions.
ETS (EMG triggered Stimulation or Evoked Stimulation) with evoStim E
ETS (EVO): ETS stands for 'EMG triggered Stimulation'. ETS is also called 'evoked stimulation' (i.e. EVO) or 'cognitive muscular re-education'. The ETS program = the EVO program utilises biofeedback (i.e. active muscle re-education) as well as electrostimulation (i.e. passive muscle re-education).
evoStim's E EVO program requires a voluntary muscle contraction by the patient / user, which triggers Action/Rest cycle of electric stimulation. The EMG signal obtained during contraction is directly proportional to the contraction of the pelvic floor muscle and is measured in µV. The trigger threshold is pre-defined to 8 µV, but can be modified to a required level. The threshold also changes automatically up with every 3 valid voluntary contractions. The last threshold value achieved during a session is automatically stored to become the starting threshold for the next session.
EVO program: Pre-set parameters: Frequency 35 Hz. Pulse width 350 µs. Action time 3 seconds. Rest time 8 seconds.
Patient's existing muscle strength, willingness to train and perseverance in improving the thresholds make the EVO program interesting, motivating and effective in the strive for functional recovery of the pelvic floor muscles.
evoStim E technical specifications
Advanced EMG ETS STIM
One electrostimulation channel and one EMG channel
Suitable for use at clinics and for home use
Features automatic IntelliStim function
Battery powered, compact and portable
Intuitive and easy to use
Stimulation output: 1 to 99 mApp in steps of 1 on a standard load of 1KΩ with pulse width of 200 µs
Frequency: adjustable from 1 to 150 Hz (± 5% of E.O.S.)
Frequency during Rest: -3 to 5 Hz (± 5% of E.O.S.)
Pulse width: automatically adjusted between 50 and 400 µs in steps of 10 µs (± 5% of E.O.S.)
Waveform: selectable between bi-phasic symmetrical and biphasic symmetrical alternated
Rise/Fall time: 0.3 to 1 second (automatically adjusted)
Plateau time: 1 – 60 seconds in steps of 1 second (± 1% of E.O.S.)
Rest time: 0 to 60 seconds in steps of 1 second (± 1% of E.O.S.)
Session time: adjustable between 5 to 90 minutes in steps of 5 minutes or Continuous
Biofeedback scale (E.O.S): selectable from 2–4–8–12–16-20-24-32-40-50-60-70-80-90-100-120-140-160-180-199 µV
Supply voltage: 4.5 V, 3 x alkaline AAA batteries (LR03)
Battery life: 20 hours average
Operating conditions: 5 to 40° C; Humidity: 15 – 93% ; Atmospheric pressure: 700 hPa to 1060 hPa
Dimensions: 73 x 147 x 25 mm
Weight: 200 g (including batteries)
CE mark Medical Device (CE0051)
Contraindications, warnings and precautions
Read user manual prior to use and retain it for future reference
Observe contraindications and follow recommendations listed in user manual
Consult your doctor if you are not sure about your suitability for TENS therapy
Do not use during pregnancy
Do not use, if you have a fitted pacemaker or suffer serious heart arrhythmia
Do not use, if you have epilepsy
Do not use, if suffering with kidney disease, lower urinary tract infections, tumours, post-void residual urine greater than 100 ml and vesicoureteral reflux
Do not use on children under age of 12, unless under medical supervision
Do not use, if you are sensitive to electric stimulation
evoStim E EMG ETS STIM – a perfect EMG ETS STIM for professionals at clinics and for personal use at home!