evoStim UG incontinence /FES/2channels
evoStim UG incontinence /FES/2channels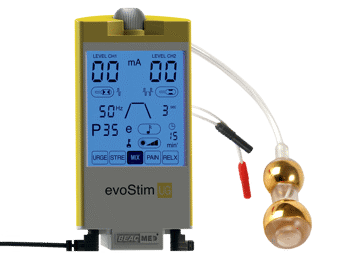 1 others are viewing this product
INCLUDED IN THE PRICE:
evoStim UG unit, Minima Vaginal Probe (nickel free with gold plated electrodes), support stand, opening key for battery compartment, 2x connective leads, 3 x AAA batteries, carry case
Choose a compatible accessory
Probe for incontinence therapy
DETAILS
evoStim UG is a perineal electric stimulator - also referred to as Pelvic Floor Stimulator - for use with vaginal and anal probes. Equipped with unique features, versatile and high performance, the evoStim UG features 2 independent channels, a touch screen with unique rotating knob, touch buttons and a user-friendly interface for unparalleled ease of use by professionals at clinics and by individual users at home.
Perineal stimulation (i.e. pelvic floor stimulation) is a proven and commonly used therapy for all types of incontinence and pelvic floor rehabilitation. Pelvic floor stimulation aims to stimulate perineal muscles, especially the pubococcygeal and puborectal muscles.
Pelvic floor stimulation using vaginal probes with ring or lateral electrodes is highly successful in strengthening and rehabilitating pelvic floor muscles and restoring continence in women. The type of the stimulation probe chosen determines the type of stimulation waveform to be used for best therapeutic outcomes. Biphasic symmetrical pulses work best with probes with ring electrodes, whilst alternate biphasic pulses are most suitable for use with probes featuring lateral electrodes. The evoStim UG features automatic wave-shape selection on each channel, depending on the type of probe selected (i.e. probe with ring or lateral electrodes).
Pelvic floor stimulation improves pelvic floor muscle tone, increases blood flow in the pelvic area and strengthens the pelvic floor muscles. A significant increase in the urethral closure pressure has been reported as well as a significant improvement in bladder tone, reduction in detrusor contractions and an improvement in bladder capacity.
evoStim UG overview
Advanced 'Home and Clinic' pelvic floor stimulator and continence therapy device
Large touch-screen LCD
2 independent output channels
40 pre-set programs
5 touch-ready default programs with IntelliSTIM function
Up to 10 pre-set editable programs associated with each one of the 5 'treatment aim' touch-buttons (i.e. URGE, STRESS, MIXED, PAIN, RELAXATION)
Automatic wave-shape selection (i.e. dependent on the type of probe selected)
Lock function
Multi-colour backlight
Convenient one hand operation
Open circuit detection
CE 0051 Medical Device
2 years waranty
Made in Italy
Designed with a clear aim to make pelvic floor stimulation more effective and comfortable, the evoStim UG Perineal Stimulator offers a true therapeutic advancement. Regardless of the type of stimulation probe chosen (i.e. probes with ring electrodes or probes with lateral electrodes), the evoStim UG always delivers optimum therapeutic outcomes.
5 of the pre-set programs benefit from the IntelliSTIM function, which automatically adjusts Work/Rest parameters, when the user changes the frequency of the stimulation program. The IntelliSTIM function makes using of the evoStim UG far simpler by comparison to other stimulators and most importantly, prevents parameter errors that can easily be made by inexperienced or unskilled users.
evoStim UG therapeutic indications
evoStim UG is indicated for the treatment of urinary incontinence – stress incontinence, urge incontinence and mixed incontinence and other pelvic floor related problems.
Treating Stress Incontinence with Pelvic Floor Stimulation
Stress incontinence is caused by urethral sphincter deficiency. Symptoms of stress incontinence include involuntary leaking of urine during coughing, jogging or running, sneezing, rising from a chair and other strenuous activities that cause an increase in abdominal pressure.
The aim of the pelvic floor stimulation in the treatment of stress incontinence is to improve the voluntary control of pelvic floor muscles. An effective treatment of stress incontinence requires restoring of the pelvic floor muscle strength and endurance. To achieve this, patients should persevere with pelvic floor stimulation treatments over a long period of time, during which small steps improvements are achieved gradually and continue until resolution is achieved.
Stimulation treatment should be performed every day for 20 minutes. Stimulation therapy should commence with short work periods and as the muscles begin to grow stronger, gradually build-up endurance by increasing duration of contractions. Stress incontinence is normally treated with relatively high frequency electrical pulses, ranging from 35 to 100 pulses per second (i.e. 35 – 100 Hz) with the aim of exercising muscles fibres with strong short contractions. Pulse width should be selected between 100 – 400 microseconds.
When using pelvic floor stimulation to treat stress incontinence, the purpose of the stimulation is to induce pelvic floor muscle contractions. During stimulation, gentle tingling sensation is felt. When pelvic floor muscles contract and the pelvic floor lifts, the external part of the vaginal probe tilts visibly down. Simultaneously with the contraction, the patient feels tightening of the pelvic floor. Please note that pelvic floor stimulation does not cause damage to pelvic floor muscles, however, the stimulation should not feel uncomfortable, because discomfort can reduce motivation of the patient to participate in the therapy long term. If a discomfort is felt, intensity level should be reduced appropriately until comfort is apparent.
Treating Urge Incontinence with Pelvic Floor Stimulation
Urge incontinence is caused by detrusor instability. Detrusor is the smooth muscle in the wall of the bladder. When healthy and well-functioning, the detrusor is relaxed during urine storage in the bladder and contracts to empty the urine from the bladder. Urge incontinence (i.e. overactive bladder) is a condition characterised by detrusor instability (i.e. spontaneous uninhibited contractions of detrusor muscle during bladder filling stage), leading to frequent urge to pass urine and/or urine leakage.
The goal of the pelvic floor stimulation in the treatment of urge incontinence is to strengthen the reflex inhibition of the detrusor muscle. The most appropriate frequency to be used for overactive bladder (i.e. urge incontinence) is between 5 – 10 Hz with a pulse width of between 250 – 400 microseconds. The stimulation is most effective, when performed daily for the first week and then 2 – 3 times per week for the next 3 – 4 weeks.
Low frequency level stimulation used in the treatment of urge incontinence does not cause contractions and therefore there are no movements of the external parts of the vaginal probe to be seen. The stimulation is most effective at highest intensity levels. Any discomfort felt by the patient at the early stages of stimulation diminish with time and it is therefore possible to increase the intensity to the therapeutically desirable and more effective high intensity level.
Treating Mixed Incontinence with Pelvic Floor Stimulation
Mixed incontinence accounts for circa 40% of all urinary incontinence cases. Mixed incontinence is characterised by episodes of stress incontinence caused by straining with increased abdominal pressure alternating with episodes of urgency caused by detrusor instability, also described above.
Depending on predominance of the contributory incontinence (i.e. stress or urge), mixed incontinence can be treated with a relatively high frequency (i.e. 75 Hz) for greater effects of stimulation on the muscle tone and strength or with lower frequencies for greater effects on detrusor muscle.
Urge incontinence normally responds faster to stimulation treatment than stress incontinence, hence it is best to treat urge incontinence first and subsequently follow with treatments for stress incontinence. Alternatively, 2 treatments per day can be performed, one for urge incontinence and one for stress incontinence.
evoStim UG programs
P 10 – P 19: programs for Urge Incontinence (URGE touch button) – to be performed with a stimulation probe – duration of programs is 40 minutes each – treatment of urge incontinence
P 20 – P 29: programs for Stress Incontinence (STRE touch button) – to be performed with a stimulation probe - duration of programs is 20 minutes each – treatment of stress incontinence
P 30 – P 39: programs for Mixed Incontinence (Mix touch button) – to be performed with a stimulation probe – duration of programs is 30 minutes each – treatment of mixed incontinence
P 40 – P 49: programs for Pelvic Pain Relief (PAIN touch button) – to be performed with either stimulation probe or surface skin electrodes – duration of programs is 30 minutes each – suitable for pelvic pain
P 50: program for Pelvic Muscle Relaxation (RELX touch button) - to be performed with either stimulation probe of surface skin electrodes – duration of program is adjustable from 30 minutes to 90 minutes in 5-minute steps – suitable for reduction of a spastic contracture of pelvic muscles
evoStim UG technical specifications
Channels: 2 independent channels
Supply voltage: 4.5V with 3 x 1.5V alkaline AAA batteries (LR03)
Battery life: 20 hours on average.
Output current: 1 – 60 mApp on a load of 1000 Ohm, adjustable in steps of 1mA
Frequency: adjustable from 1 - 150 Hz (1-2-3-4-5-10-12-14-16-18-20-25-30-35-40-45-50-60-70-80-90-100-110-120-130-140-150) (± 5%)
Frequency during rest: 3 Hz (± 5%)
Pulse width: adjustable from 50 - 400 μs in steps of 10 (± 5%)
Pulse type (wave-shape): selectable between bi-phasic symmetrical and bi-phasic symmetrical alternated
RISE time: 0 - 5 seconds, in steps of 1 s (± 1%)
PLATEAU time: 1 - 60 seconds, in steps of 1 s (± 1%)
FALL time: 0 - 5 seconds, in steps of 1 s (± 1%)
REST time: 0 - 60 seconds, in steps of 1 s (± 1%)
REST frequency: 0 - 10 Hz (± 1%)
Session time: selectable from 5 – 90 minutes, in steps of 5 or Continuous
Applied parts connectors: protected pins 2 mm
Dimensions: 73 x 147 x 25 mm
Weight: < 200 g (including batteries)
Environmental conditions: 5 - 40°C / 15 – 93 % RH / 700 hPa – 1060 hPa
CE 0051 Medical Device
Contraindications
Read and follow user manual recommendations, including full list of contraindications, warnings and precautions
Do not use for 3 months after childbirth
Do not use in pregnancy
Do not use if fitted with pacemaker or if suffering from a serious heart arrhythmia
If you suffer from epilepsy – consult your doctor before using any electrical stimulator
Do not use in children under age of 12, unless under strict medical supervision
Do not use if suffering from nephropathies, lower urinary tract infections, existing tumours, post-micturition residual more than 100 ml, vesico-urethral reflux, total denervation, vaginal bleeding between menstruation
If you are in any doubt as to your suitability to use pelvic floor stimulator, please consult your doctor!
evoStim UG Perineal Stimulator – your perfect user friendly pelvic floor stimulation for management of incontinence and strong pelvic floor.