Genesy 300 Pro TENS/EMS/MCR 4 channel
Genesy 300 Pro TENS/EMS/MCR 4 channel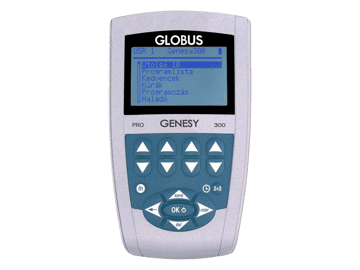 INCLUDED IN THE PRICE:
device, 4pcs cable, 2pcs cable for microcurrent treatment, 4pcs 50x50mm and 4pcs 50x90mm TENS electrodes, battery charger, carrying case
Choose a compatible accessory
Belt for lover-back pain / abdominal strengthening
DETAILS
Genesy 300 Pro: multifunctional electrotherapy device with TENS | EMS | MENS | MCR | FES | Iontophoresis programs test 2
Hundreds of programs can help you treat, repair, cure or prevent thousands of problems.
Disease management.
Sport preparation and muscle recovery, injury treatment and prevention programmes
Fitness and fitness programmes. Weight loss support, post-pregnancy recovery support
Beauty care by improving muscle condition and skin elasticity.
Treatment types
The device is multifunctional, i.e. it provides several electric treatment modes. Each treatment mode can be used to solve different problems.
TENS
TENS, i.e. transcutaneous electrical nerve stimulation is mainly used to relieve musculoskeletal pain. They can also be used to reduce menstrual pain and, to a lesser extent, cancer pain.
The traditional and endorphin programmes are primarily for pain relief for a few days, while the modulated TENS programmes are suitable for treatments lasting up to months.
TENS treatment can be used instead of or to reduce pain medication. It can be used several times a day and lasts for a few hours after treatment.
Find out more about TENS in Dr Zsolt Zátrok's blog in the Lifelong Healthy magazine. Click on the links below.
EMS or NMES
In medical practice, electrical muscle stimulation is referred to by the abbreviation EMS or NMES. It is used to treat muscle-related problems. Muscle stiffness, muscle atrophy, slowing down muscle strength and muscle mass loss, improving blood circulation, reducing muscle pain are its main applications. Used prior to musculoskeletal surgery in preparation for surgery, it improves surgical outcome. Afterwards, it is an almost indispensable adjunct to rehabilitation.
The device provides muscle stimulation on four channels.
Muscle stimulation can be used by anyone who can move their limbs voluntarily. It can also be used to maintain and improve muscle condition after central paralysis (such as that caused by a stroke). However, this type of stimulation is not suitable for the treatment of peripheral paralysis (peroneal paresis, Bell's palsy, paralysis due to spinal fracture, etc.) - this is what denervated, also known as selective stimulation, is for. Denervated treatment is not provided by this device.
You can find out more about muscle stimulation in Dr Zsolt Zátrok's blog in Healthy for Life magazine. Click on the links below.
FES
FES, or functional stimulation, is commonly referred to as a stand-alone treatment. In fact, it is also muscle stimulation, performed here to regain some lost ability.
The best known FES treatment is the treatment of incontinence (leakage of urine and/or faeces).
This device can treat both faecal and urinary incontinence, and provides programmes for stress, urge and mixed incontinence).
Learn more about performing functional stimulation for incontinence. Look for it in Dr Zsolt Zátrok's blog in Lifelong Healthy magazine. Click on the link below.
A few days after central paralysis (in lucky cases), the muscles partially regain their ability to move, but become clumsy and weak. Muscle stimulation to regain strength and relearn movement is also functional stimulation.
Find out more about functional stimulation in Dr Zsolt Zátrok's blog in Healthy for Life magazine. Click on the link below.
MENS or MCR
Microcurrent is an extremely mild current (TENS or muscle stimulation current, for example, is a thousand times more current).
Microcurrent can be used to relieve pain (then called MENS or microcurrent nerve stimulation) or to heal (then called MCR).
Microcurrent accelerates the healing of inflammatory processes (such as tendonitis, arthritis, arthrosis, etc.). It reduces oedema, so it is useful in the acute treatment of herniated discs, lumbago, sciatica, other radicular symptoms. It accelerates the healing of injuries, wounds, muscle tears, etc.
Microcurrent stimulates collagen production and thus the healing of wounds and scars - this can also be used in beauty care, where it is effective in restoring skin elasticity and wrinkle treatment.
This device only provides microcurrent treatment on 2 channels (1 and 3 outputs from left) and requires a special (grey) cable (included in the price).
Find out more about microcurrent treatments in Dr Zsolt Zátrok's blog in Lifelong Healthy magazine. Click on the links below.
Intophoresis
Iontophoresis is a type of current useful in the treatment of arthritis and sports injuries. It is used to deliver a drug (dissolved in water and electrically charged) directly to the problem area through the skin, bypassing the digestive tract. This is its advantage. In the case of an ankle injury, for example, oral medication can reach all parts of the body, with only a minimal amount reaching the ankle. But it should be the other way round: a lot to the ankle, a little to other parts of the body. Iontophoresis helps with this.
Iontophoresis treatment (due to its nature) can only be performed on output 1 of the device.
You can find out more about iontophoresis in Dr Zsolt Zátrok's blog in the Lifelong Healthy magazine. Click on the link below.
Programme groups
Medical treatments
20 TENS programmes
12 Microcurrent (MENS and MCR). Pain and anti-inflammatory treatment, healing stimulating effect.
7 rehabilitation programmes
1 iontophoresis treatment programme. Primarily for accelerating the healing of joint injuries (iontophoresis kit not included in the price)
Fitness and Shaping - 29 progam for shaping, toning, overall fitness.
Sport - 22 program variants. Read Dr. Zsolt Zátrok's article on the use of muscle stimulation exercise programs.
Muscle Management (Sport)
Active recovery
Endurance strength
Warm-up
Hypertrophy
Capillarisation
Maximum force
Speed of reaction
Explosive force
Pre-race warm-up
Post-race recovery
Fitness-Alactivation
Aerobic training
Acclimation
Anaerobic training
Bio-pulse stretching
Bio-pulse shaping
Vitality
Tightening
Forming
Cramp prevention
Running
Development of details
Bulking up
Microcurrent
Acute pain
Inflammation
Seizure
Soreness
Lumbar pain
Sore neck
Stroke injury
Teniscal elbow
Sprain injury
Shoulder blade periarthritis
Shoulder sprain
Bruise
Pain relief (Tens)
Low Freq. pain relief Tens
Bursitis tendinitis
Bone fracture pain
Bone Tunnel
Endorphin TENS
Pain Reliever Tens
Isias
Seas Pain
Chronic pain
Chronic lumbar pain
Menstrual pain
Modulated Pain Relief Tens
Postoperative pain
Pain in the neck
Osteoarthritis
Rotator sheath inflammation
Teniscal elbow
Sknee pain
Trapezius pain
Rehabilitation
Recovery after ACL surgery
Swollen ankles
Functional recovery
Severe incontinence
Quadriceps atrophy
Shoulder sprain prevention
Vastus medialis strength recovery
Iontophoresis
Useful features
Function

Details

LAST 10 function:
The device stores the 10 most recently executed programs. They can be quickly and easily selected from the list and launched.

AUTO STIM feature
Allows the user to automatically execute a program without adjusting the intensity. Intensity values are automatically assigned based on the last execution of the program. The AUTO STIM function can only be used for TENS and EMS programs recorded in the "Last 10" memory.

Run Time function
After starting a program, it is possible to modify the main parameters of the running program: treatment time, frequency, pulse duration. After pressing the Function button, the modification is possible.

Favorite Programs
Allows you to save the most used programs to memory (up to 15 per user) and quickly launch them from there.

STIM LOCK feature
Allows you to lock programs saved in the Treatments menu. Important when lending to patients who need to perform a program "locked" by the therapist (while no other program is allowed)

Create your own program
Allows you to create and modify (15 in total) new programs, making the device extremely flexible and customizable.

2+2 mode
Allows two different programs (EMS or TENS) to be performed simultaneously. This allows two patients or two muscle groups to be treated together. The programming of channels 1-2 and 3-4 can be separated.

Multiuser
Allows individualized use of the device by multiple users. To access Favorites and Last10 functions, the user must log in to their profile. This allows you to set up management plans for up to 10 people.
Genesy 300 Pro specifications
Languages available in English, German, French, Italian, Spanish, Hungarian.
Preset programs
Women's and men's programs
2+2 functions (2-2 different programs per channel can be started, so you can treat e.g. knee and neck pain at the same time)
Backlit display
Feedback mechanism: senses patient contact - only start treatment when electrodes are in contact
Device size: 160x99x35.4 mm
Weight: 404 g
Protection level: IP 22
Storage and transport temperature: -10°C - 45°C
Storage and transport relative humidity: 30% - 75%
Conditions of use

Temperature: 0°C - 35°C
Max. relative humidity: 15% - 93%
Atmospheric pressure: 700 hPa - 1060 hPa

Battery mode: 7.2V, 1.8Ah rechargeable Ni-MH battery with charger
TENS and EMS current characteristics

biphasic, compensated, symmetrical square wave (signal quality is constant from positive to negative pole, no polarization effect)
Available on any of channels 1-2-3-4
Constant current generator that guarantees a constant current for any condition of the skin and stops the current in case of electrode fall off.
Intensity: 0-120 mA, 1000 Ohm
Frequency: 0.3-150 Hz
Pulse amplitude (pulse duration): 50-450 μs
Working time: 1 - 30 seconds
Rest time: 0 - 1 minute
Frequency modulation range: 1 - 150 Hz continuously adjustable
Min. modulation time: 3 seconds
Amplitude modulation range: continuously adjustable between 50 and 450 milliseconds

Micro current

Available channels: channels 1 and 3
Min. frequency: 5Hz
Max. frequency: 200Hz
Min. intensity: 0 μA/1000 Ohm, 10 μA step
Max. intensity: 800 μA/1000 Ohm
Amplitude (pulse duration): 1 to 250 milliseconds

Iontoforesis

Available channels: channel 1
Continuous current: Yes
Min. intensity: 0 mA/1000 Ohm
Max. intensity: 10 mA/1000 Ohm steps of 0.1 mA/1000 Ohm

Adjustable treatment time

Min. time: 1 min
Max. time: 99 min
Accessories and accessories
The price includes a basic package with the device, battery, mains charger, cables for stimulation and 2 packs of self-adhesive electrodes.
This is enough to start using the basic functions of the device immediately, such as TENS / EMS / milk theraam.
The self-adhesive electrodes are sufficient for one person for hygienic reasons. If you want to use more than one, you should have a separate electrode pack for each person.
Adhesive electrodes
The self-adhesive electrode provides the best quality treatment. But as its adhesive fails to adhere over time and the gel surface dries out, it wears out and a new one has to be bought. It's like putting gas in your car. When you use it, it runs out and you have to refill it.
3 electrode quality levels are marketed. Within these you can choose from two types of connectors (needle and patent), several sizes and shapes (square, rectangular, oval, round, butterfly).
ValueTrode: Basic electrodes, suitable for TENS, EMS and even microcurrent treatments. They are stiffer so I do not recommend these for face, neck.
Ultrastim: these provide better pendulum conduction than ValueTrode electrodes, so for those with sensitive skin, this is a better choice. They are excellent for all forms of treatment, even nerve damage treatment. They are more flexible and thinner than ValueTrode electrodes, but PALS is better at this too.
PALS: these are the highest quality electrodes Very evenly deliver current, so even the most sensitive skin will like them. I recommend this one for nerve damage. High flexibility makes them ideal for face, neck and surfaces with high curvature.
For more information on how to choose TENS electrodes, see Dr Zsolt Zátrok's blog in Lifelong Healthy magazine. Click on the link below.
TENS electrodes
If you want to avoid buying adhesive electrodes again, you can buy "non-wear" accessories separately.
The material of durable electrodes is mostly silicone or carbon. They can be used for pain relief, muscle stimulation and iontophoresis. They cannot be used for microcurrent treatment!
The signal transmission of permanent electrodes is weaker than that of self-adhesive electrodes, so the effectiveness of the treatment is lower, while the unpleasant stinging and burning associated with the treatment is much stronger.
If you do a lot of treatment, however, permanent electrodes may be cheaper, if you do little treatment, you may want to go for the self-adhesive ones.
Rubber electrode
This is a silicone carbon sheet, you can get 2 sizes from us. 5x5cm and 5x9cm.
You can also apply the rubber electrode directly to the skin, but the surface must be thoroughly watered. The water can dry up quickly from body heat, so we recommend contact gel.
Otherwise, you can buy it with a sponge case. The sponge bag should be dipped in water, and then the rubber electrode should be slipped into this wet bag and placed on the skin.
In either case, the electrode will not stick to the skin, so it should be secured with a sticking plaster or Velcro elastic strap.
FastBand belt
This is a neoprene belt that allows treatment on 3 channels.
The belt is a waist fitting. Then the back muscles and the lateral bundles of the posterior trunk muscles can be treated.
If you turn it to the abdominal side, the impulse can be given to the straight abdominal muscles and the lateral oblique abdominal muscles.
The belt is 100cm, it stretches slightly due to the material and is available with a Velcro insert. The two together can be good up to 140cm.
Excellent for shaping treatments, post-pregnancy recovery.
For various forms of lower back pain, we prefer the UltraStim belt.
Ultrastim Belt
A neoprene belt designed for the treatment of low back pain. It is used to treat back pain, lumbar sprains, sciatica, herniated discs.
The Ultrastim PAD electrode is glued to the electrode pad on the inside of the belt, it will adhere to the muscles next to the spine.
Y-cable
You can use this to increase the channel count of your stimulator. Putting one cable at the end of the cable "creates" two. This allows you to use your 4-channel stimulator with up to 16 electrodes.
However, splitting the channels also means that you need to increase the treatment current to get the same effect. This means a more uncomfortable treatment. If, on the other hand, you do not increase the current, the treatment effect will be less with the doubled cable than without splitting.
Conductive garments
5 types available: glove, sock, wrist, elbow and knee treatment.

They are primarily used to treat polyneuropathy and joint, tendon or muscle pain and can be used with TENS programs. They are not suitable for muscle stimulation or microcurrent treatment.
For treatment, the textile electrode should be thoroughly immersed in water and applied wet. When used dry, the electrical impulse transmitted is inadequate and the treatment burns, stings and is unpleasant.
Motorpoint pencil
This device is recommended for muscle stimulation. It has two main uses.
1. It helps to locate the motor point. The motor point is the point where the motor nerve reaches the muscle.
Knowing the motor point is important because it is by sticking the electrode to this point that the most effective muscle stimulation can be achieved.
2., When treating small muscles, such as facial nerve palsies, by replacing one of the self-adhesive electrodes, the motor point pencil can be moved continuously from muscle to muscle, while the treatment progresses.
Contraindications
Electrotherapy treatments (TENS, EMS, MENS, FES, ETS, CES, microcurrent, iontophoresis, denervated, selective stimulation current, Kotz, interferential, etc.) are safe and free of side effects.
There are only a few conditions that are considered contraindications.
The current position is that any electrotherapy treatment is FORBIDDEN for patients with pacemakers or implanted defibrillators.
Other conditions are not exclusionary, and the pros and cons of their use should be weighed (by the treating physician).
If you are unsure about the applicability, read Dr Zsolt Zátrok's article on the Lifelong Healthy blog. Click here.
It is commonly believed that electrotherapy devices should not be used for metal implants, prostheses, bone plates, screws. This is an outdated assumption. Read Dr. Zsolt Zátrok's article on the relationship between implants and electrotherapy. Click here.